PRESENTS: SEX CELLS FOR THE HOLIDAYS WITH AMANDA LEPORE, BROOKE CANDY AND TRACI LORDS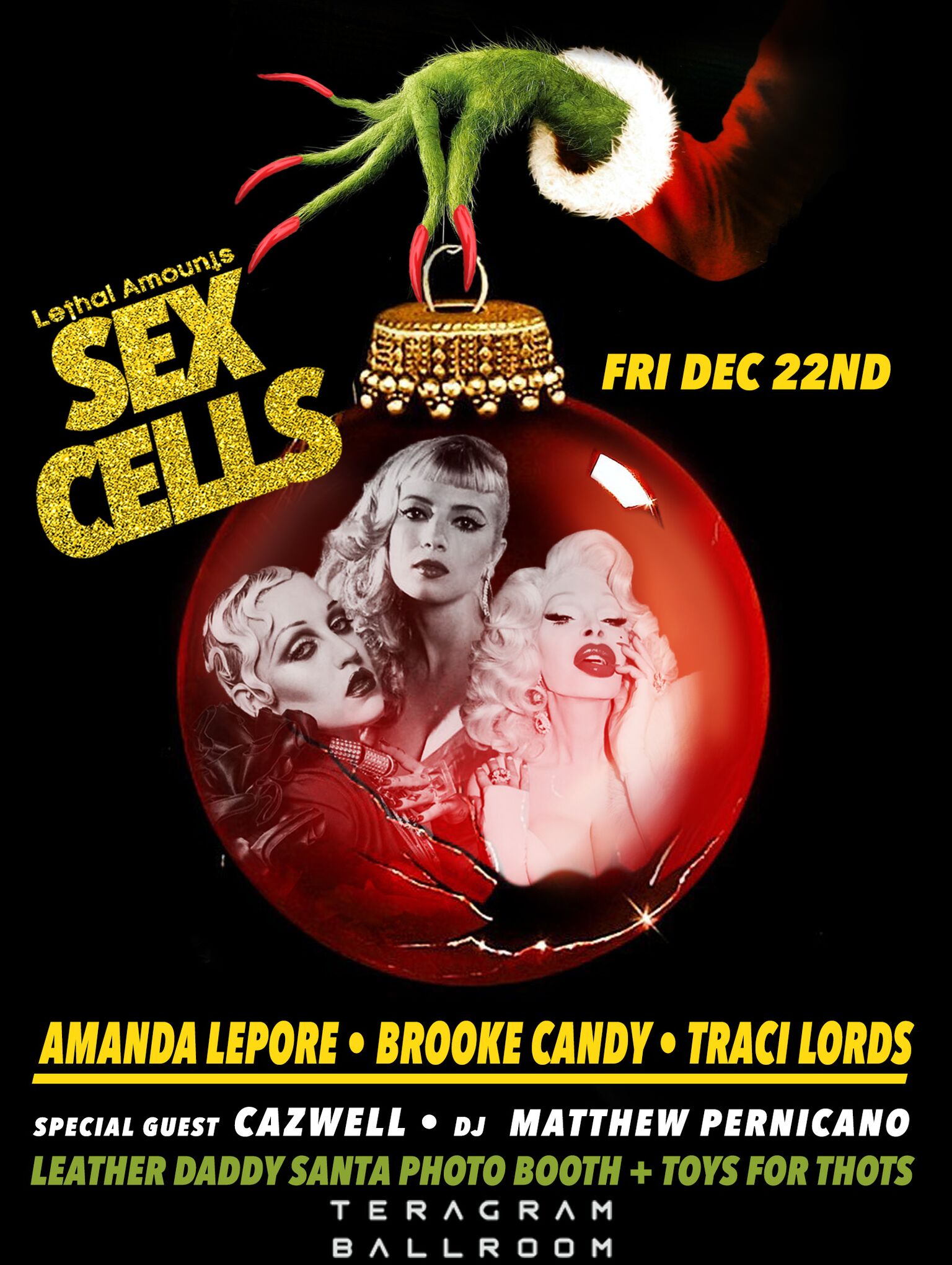 Los Angeles, CA - Los Angeles' Lethal Amounts will be keeping things merry and bright this December with their Sex Cells Holiday club night taking place December 22nd at the Teragram Ballroom. Ushering in the Holiday cheer will be Mistress of Ceremonies actress, musician and author Traci Lords. Festivities will include performances from fashion muse and pop star provacateur Brooke Candy and cultural icon and the world's most famous transsexual Amanda Lepore.
The night will offer something for everyone on your Holiday list including a Leather Daddy photo booth, Toys for Thots, a meet & greet with Traci Lords, a spanking booth or all boys and girls both naughty and nice with more delights and surprises throughout the night.
To keeping the yuletide burning bright Lethal Amounts is offering up DJ sets from Matthew Pernicano, Lethal Amounts founder Danny Fuentes and a very special appearance by Cazwell.
Tickets go on sale Friday December 1st at 10am PST via Ticketmaster.
Sex Cells @ the Teragram Ballroom
Friday December 22nd
1234 W 7th St
Los Angeles, CA 90017
ABOUT LETHAL AMOUNTS
Lethal Amounts the creation of Danny Fuentes focuses on subversive and counter culture themes throughout history, addressing the social and artistic value of underground movements while highlighting taboo topics. Lethal Amounts showcases the extremes of those individuals who have moved culture forward and live on the edge of and outside of societal norms. Rock 'n Roll of the past that has crossed over into pop culture fanaticism, street culture influences and cult hero worship.
Lethal Amounts inhabits a physical gallery space in downtown Los Angeles that features three exhibition rooms and over 2,500 sq. ft. In addition to the gallery space Lethal Amounts hosts and produces events throughout Los Angeles, including the monthly Sex Sells party, a clothing line that sees them partner with like minded musicians and artists to release original licensed shirt designs and more.
LETHAL AMOUNTS
1226 W. 7th St Los Angeles CA 90017
Store Hours: Saturday & Sunday 12pm-8pm
213-265-7452 | INFO@LETHALAMOUNTS.COM