METAL ON METAL: A PHOTOGRAPHY EXHIBIT FROM LEVAN TK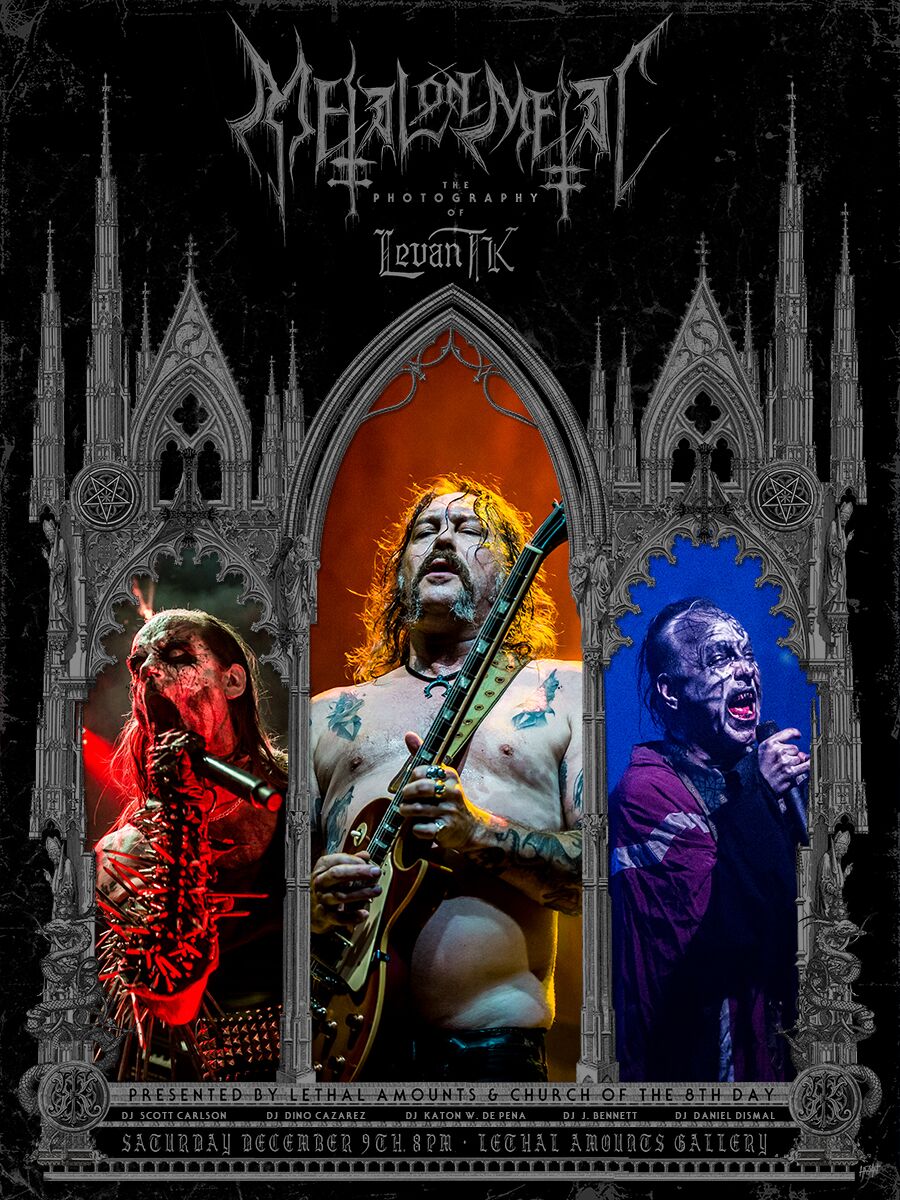 Lethal Amounts in conjunction with Church of the 8th Day are excited to be presenting the very first solo exhibition, Metal on Metal, by the acclaimed internationally published photographer and Los Angeles local Levan TK, on Saturday December 9th. The exhibit will be featuring a selection of over 20 of Levan's original concert photographs printed on sheets of metal.
Levan specializes in concert photography, possessing a natural eye for composition and lighting, capturing the essence of some of the world's most provocative artists. Levan's versatility as an artist has lead him to compile an impressive portfolio that includes events, portraiture, performance, glamour, and fashion. Levan's work has taken him around the globe shooting some of the world's most influential bands at prominent European and North American music festivals, such as Roadburn in Netherlands, Inferno Festival in Norway, Maryland Deathfest and The Psych Las Vegas Festival. His work has been featured in a large variety of notable publications. His ongoing work can be found in LA Weekly and on his instagram account.
The opening night reception will feature guest DJ's Dino Cazares (Fear Factory, Asesino) Katon W. De Pena (HIRAX), Scott Carlson (Repulsion, The Superbees), J. Bennet (Ides Of Gemini, Mustard Gas and Roses) and Daniel Dismal (Crematorium, Church of the 8th Day)
METAL ON METAL AT LETHAL AMOUNTS GALLERY
SATURDAY DECEMBER 9 8PM
226 W 7th St, Los Angeles, California 90017
ABOUT LETHAL AMOUNTS
Lethal Amounts, the creation of Danny Fuentes, focuses on subversive and counter culture themes throughout history, addressing the social and artistic value of underground movements while highlighting taboo topics. Lethal Amounts showcases the extremes of those individuals who have moved culture forward and live on the edge of and outside of societal norms. Rock 'n Roll of the past that has crossed over into pop culture fanaticism, street culture influences and cult hero worship.
Lethal Amounts inhabits a physical gallery space in downtown Los Angeles that features three exhibition rooms and over 2,500 sq. ft. In addition to the gallery space, Lethal Amounts hosts and produces events throughout Los Angeles, including the monthly Sex Sells party, a clothing line that sees them partner with like minded musicians and artists to release original licensed shirt designs and more.
LETHAL AMOUNTS
1226 W. 7th St Los Angeles CA 90017
Store Hours: Saturday & Sunday 12pm-8pm
213-265-7452 | INFO@LETHALAMOUNTS.COM